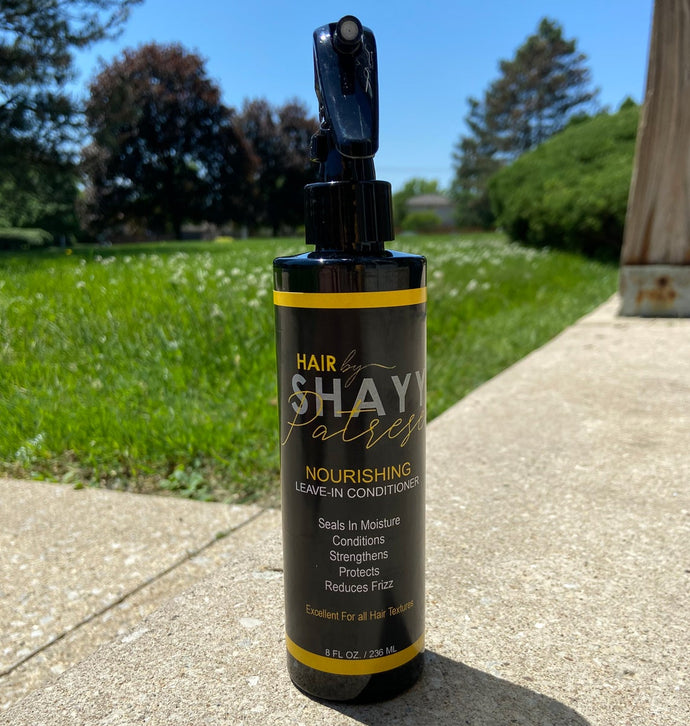 The best leave-in conditioner you can buy comes from an upscale salon in Chicago called HairByShayyPatrese Nourishing Leave-in Conditioner. It checks all of the boxes for being a moisture sealant, it conditions and strengthens the hair, plus it protects your hair. Best of all, it works superbly for all hair types! Tired of scouring the web looking through a matrix of leave-in conditioners that are being recommended? Stop your search and read why this is the best choice for you.
Why is it the best leave-in conditioner?
Not simply because we said so, but it's been proven to help nourish damaged hair and our salon clients can attest to the results. However, let's get into the ingredients to explain why it's the best.
It contains all-natural ingredients such as purified water, aloe vera, and lavender.
We use purified water to filter out impurities. Soft water is more suitable for your hair because it penetrates the follicles better which makes the hair look shinier, softer, and less damaged. Purified water is more gentle on the hair and requires less product and helps it lather easier.
Aloe vera is an amazing plant with many beneficial compounds, including protein-digesting enzymes that help repair dead skin cells on the scalp. The plant is a great conditioner that naturally reduces dandruff, scalp itching, and helps promote hair growth.
Lavender oil is an essential oil that helps stimulate hair growth. It also soothes the scalp from itching and irritation, plus it helps reduce dandruff. Not to mention how lovely lavender smells.
Hair is made up of proteins called keratin. Chemical treatments such as dyes, coloring, and relaxers can damage keratin in the hair shaft causing breakage. Using a leave-in conditioner that replenishes much-needed protein can be beneficial to better hair growth and scalp health.
Full benefits of this leave-in conditioner:
Heat protectant - helps protect the hair from heat damage.
Detangles - helps untangle hair naturally without resorting to harsh chemical straighteners.
Weightless - it's doesn't make your hair feel heavy.
Promotes body - your hair will be full of volume after using this leave-in conditioner.
Repairs damaged hair - our combination of all-natural ingredients work in tandem to repair damaged hair.
Seals in moisture - it helps seal in moisture, leaving the hair naturally shiny.
Refreshes natural curl pattern - if your locks have tangled more than usual, this product can help restore the natural coil of your hair.
Child friendly - our conditioner is safe for children and can be used as a daily moisturizer.

Leave-in conditioner tips
When applying, mist lightly on damp hair and comb through from tips to the root. Do not rinse.
Final thoughts
If you've been struggling to find the perfect leave-in conditioner that works for all hair types, look no further. HairByShayyPatrese offers the best leave-in conditioner that checks every box and then some! It strengthens your hair while conditioning- a difficult task most other brands can't accomplish. This product is also effective on curly or straight... thick or thin hair as it seals in moisture.
And best of all, this solution has been tried and tested by many satisfied customers who have left their opinions online. How about giving our products a try? Stop wasting time on other products when this one does everything you're looking for (and more) at an affordable price point. We offer fast shipping so there's nothing holding you back from trying something new today!