Nourishing Leave-In Conditioner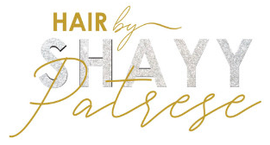 Hair By Shayy Patrese is a premium brand featuring luxury hair extensions & wigs, all-natural haircare products, and an upscale salon located in Chicago. Whether you are local or remote we can accommodate your beauty needs.
Get free shipping on orders over $500!
Luxury Extensions
We have Straight, Loose Wave, Deep Wave, 613 Bundles & more!
Hair By Shayy Patrese
shayy-butta-hair-oil-4oz-bottle
Shayy Butta Hair Oil is our signature hair growth product. Shayy Butta is the best hair growth oil if you want real results. (Check our reviews and see what real clients have to say about it!) We're not messing with chemicals...
Premium Haircare Products
Our all-natural haircare products promote healthy hair growth!
The Blog
We offer a wealth of haircare education resources.
Raving Reviews
Here's what our clients have to say about us...
⭐⭐⭐⭐⭐
October 17, 2021
"Shay is very good at what she does. She always provides advice/tips on how to care for your hair and she has a line of beauty products that helps you maintain your hair as well. She does my natural hair and my extensions and I am never disappointed when I leave her!"
Benita Sterling
⭐⭐⭐⭐⭐
September 30, 2021
"I love her services as well as her personality. She give you good advice about your hair and what you should or shouldn't do. I truly adore her hair products as well. The hair oil actually makes my hair feels better right along with the leave in conditioner. The hair bonnet I bought from her is one of the best bonnet. Its stays on all night."
Regina Williams
⭐⭐⭐⭐⭐
September 2, 2021
"Shayy does her best to provide exceptional service and a welcoming environment! I use her hair oil daily and have seen great results! It's a light oil that's packed with vitamins and other ingredients that your hair will thank you for! I have fuller hair and a healthier scalp! I would definitely recommend her products and other services!"
Kirk

⭐⭐⭐⭐⭐
October 10, 2021
"Loving my hair! OMG it was slayed to the gawds!"
Juanita
About ShayyPatrese
Shayy Patrese has been the proprietor behind the brand HairbyShayyPatrese since 2010. She is a licensed cosmetologist, graduating from the prestigious Paul Mitchell school located in Chicago.
Shayy is dedicated to her clients by making them feel relaxed. Furthermore, clients benefit by being educated on hair care tips from her expertise.
She furthers her career and education by staying abreast of the latest trends in the haircare industry.
HairbyShayyPatrese launched a complete line of all-natural hair care products, including hair growth oils and hair conditioning products.
Get Discounts In Your Inbox!
Sign up for discount codes. No spam, we promise!
SAVE 10% OFFyour next purchase!
Location & Hours
Shayypatreseinc
12246 S Pulaski Rd Suite 115
Alsip, Illinois 60803
+17739960972
Hours
Monday Closed
Tuesday 12:00 pm - 8:00 pm
Wednesday 9:30 am - 6:30 pm
Thursday 12:00 pm - 8:00 pm
Friday 11:00 am - 8:00 pm
Saturday 11:00 am - 8:30 pm
Sunday Closed